Rally Sweden 2006
Marcus Grönholm and Timo Rautiainen scored Ford's 50th world rally victory

Gronholm scores debut win for Ford in Monte Carlo
Marcus Grönholm and Timo Rautiainen claimed a masterful victory on their debut in the new Ford Focus RS World Rally Car on the Rallye Monte Carlo today

Acropolis Rally of Greece
Gardemeister finishes second for BP-Ford in Greece

Double points finish brings Turkish delight for BP-Ford
BP-Ford World Rally Team claimed a double points haul as three Focus RS World Rally Cars finished in the top nine on the Rally of Turkey

Rally Cyprus
Ford celebrates landmark record on Cyprus Rally

Fiesta Junior World Rally Car...
Προετοιμασία για την αδρεναλίνη των αγώνων

Ford's Fiesta JWRC - Rally Acropolis
Ford TeamRS' new Fiesta Junior World Rally Car made an encouraging start to its competition debut on this weekend's Acropolis Rally in Greece.

Ford's Fiesta JWRC - Rally of Turkey
Ford Fiesta Junior World Rally Car driver Jari-Matti Latvala was encouraged by the improvements to the car on its second outing in the FIA Junior World Rally Championship in Turkey

Ford Fiesta JWRC to M-Sport
M-Sport takes over the Fiesta JWRC programme from FordTeamRs

Debut to new-look Ford Fiesta
Evans gives international debut to new-look Ford Fiesta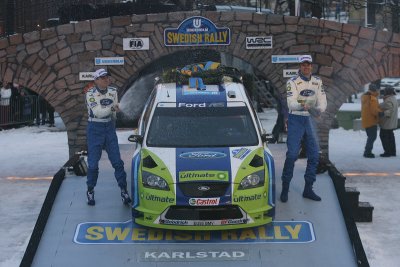 Rally Sweden 2006
Marcus Grönholm and Timo Rautiainen scored Ford's 50th world rally victory


today when they won the Swedish Rally in a Ford Focus RS World Rally Car. The Finns led from start to finish on this second round of the FIA World Rally Championship to provide the perfect birthday present for Grönholm who is 38 today.

It was the second consecutive victory for Grönholm and Rautiainen, who claimed a debut win with the BP-Ford World Rally Team in the same Focus RS on the Rallye Monte Carlo two weeks ago. It was his fourth Swedish victory and he leads the drivers' championship by four points. BP-Ford team-mates Mikko Hirvonen and Jarmo Lehtinen recovered from Friday's overheating problems to finish 12th to help Ford maintain its lead in the manufacturers' championship.

The Swedish Rally is the only pure winter event in the series and temperatures which dipped as low as -23˚C in the snow-covered Värmland region ensured perfect conditions for the three-day event. BFGoodrich's studded winter tyres provided perfect grip throughout and Grönholm's dominance was reflected by the fact that he won 10 of the 19 speed tests, covering 349.02km.

Grönholm began today's final leg, held on fresh overnight snow, with a 25.1sec lead over Sebastien Loeb. However, a hydraulic oil leak on the third special stage allowed Loeb to reduce the gap to just 14.4sec before Grönholm responded with fastest time on the final three tests to win by 30.9sec.

"This is another fantastic result," he said. "After my first test in the Focus RS here before Christmas, I thought I could take a good result in the rally but to win is just amazing. To win both my first two rallies in the car is a dream and it's good for the future. My birthday isn't so important now. The big thing for me is that the Focus has proved so competitive all weekend. BFGoodrich provided me with great tyres and I set some superb stage times. I just hope that the car will be as competitive on gravel because it would be great to continue this winning run on the next round.

"We had a scary moment this morning when hydraulic oil began to leak onto the windscreen midway through the last stage before service. I had to use the manual gearchange system and had no active differential. I carried on until the end of the stage but lost a lot of time." The leak was traced to a filter which exploded, spraying all the hydraulic oil onto the windscreen. The team replaced the filter and the Focus RS was restored to full health.

Hirvonen and Lehtinen continued under SupeRally regulations after stopping on Friday's penultimate stage with an overheating engine after the water pump belt broke. Despite a 10 minute penalty, 25-year-old Hirvonen fought back from 33rd to climb into a points position for Ford.

"To score points is a good way to end because on Friday evening that didn't look possible," he said. "I'm happy with my speed and if it hadn't been for Friday's trouble then I'm sure I could have taken a podium. Conditions were perfect and the Focus was great to drive on the snow and ice. It was nice to be first on the road today because I could pick my own driving line on the flowing roads."

BP-Ford team director Malcolm Wilson expressed his delight at the team's second consecutive victory. "It continues the great start to the season that we made in Monte Carlo," he said. "I always felt confident that we could win here but I was concerned when Mikko had his problem on Friday in case it was repeated on Marcus' car. It wasn't and we went on to dominate the event."

Ford TeamRS director Jost Capito said: "To win the first two rallies of the season, both of which are very different in nature, with a car based on the new Ford Focus ST is fantastic. It's great that with the Focus RS WRC we can offer Marcus and Mikko a car in which they can show their talent."